Leavitt & Scher Dental Group
5867 Mayfield Rd
Mayfield Heights, OH 44124
440-442-3262
My Blog
Posts for: October, 2014
By Leavitt Dental Group
October 24, 2014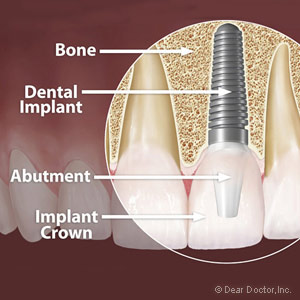 Dental implants are considered the premier option for tooth replacement. While all implant procedures follow the same general concept — a titanium post surgically inserted into the jawbone with an attached life-like crown — the installation process can vary.
From their earliest history, implants have usually been installed through a two-stage process. In the first stage, the surgeon inserts the titanium post in the bone and leaves it "submerged" below the gum level to protect it from oral bacteria and the effects of chewing and biting. About three months later after the bone attaches to the titanium (a process called osseointegration), the surgeon then performs the second stage by re-exposing the implant and attaching a temporary abutment and crown for the patient to wear while the permanent abutment and crown are fabricated and later attached in 2-6 weeks.
In recent years, advancements in materials and design have made possible a one-stage process that allows the implant to protrude above the gum line during osseointegration and shortens the process. After the initial three-month healing period, the implant is ready for "loading" with the permanent crown.
The choice between which of these two procedures should be used for your implants will first depend on the type of tooth being replaced. A front tooth benefits from the one-stage procedure for cosmetic reasons because the surgeon can install a temporary crown to the exposed abutment during osseointegration (as long as the temporary tooth isn't in functional contact with other teeth). An implant for a back tooth, on the other hand, doesn't have a large cosmetic demand so those one stage procedures usually end up with an exposed healing abutment but no temporary crown.
The strength of the bone is also a factor. Some bone tends to be softer, particularly in the back of the mouth. There's a chance the implant could move in this softer bone, adversely affecting the outcome. For this reason, the two-stage procedure can be the preferred approach for posterior teeth as it offers more protection from movement.
You can be sure we'll consider all these and other factors during your initial examination, and then advise you on the best approach. Above all, we want to make sure — whether a one-stage or a two-stage implant process — the result is a smile you can be proud of.
If you would like more information on dental implants, please contact us or schedule an appointment for a consultation. You can also learn more about this topic by reading the Dear Doctor magazine article "Staging Surgery in Implant Dentistry."
By Leavitt Dental Group
October 09, 2014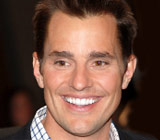 Can having a great smile help land you a high-level business position, a TV show, and a bride? Maybe — at least if you go by the example of Bill Rancic.
The 42-year-old Chicago native is well known as the first winner of NBC-TV's The Apprentice, a reality show where contestants vied for a job with Donald Trump's organization. Shortly after his selection as Trump's newest hire, Rancic met his future wife, Giuliana, when she interviewed him for E! News. Flash forward a few years, and the couple is now hosting their own reality TV show on Style network.
So how much has Bill's winning smile helped?
"I think a great smile says a lot about a person — especially in our professions," Bill recently said in an interview with Dear Doctor magazine. He also mentioned that having a few cosmetic dental treatments helped him close the deal.
As a child, Bill wore braces to correct an overbite. For both kids and adults, orthodontic treatment is often the first step toward getting the smile of your dreams. The practice of orthodontics has changed dramatically in the past 20 years and there are now a number of choices available in lieu of traditional metal braces.
Not Your Father's Braces
For those who need to maintain a "professional" image, tooth-colored braces offer a less noticeable way to straighten your teeth. Lingual braces are another option that's suitable in some situations. These are truly invisible: bonded on the tongue side of the teeth, they can't be seen from the front.
Or, you may be able to forego braces altogether and use a series of clear plastic aligners to gradually bring your teeth into alignment. Not only are these difficult to notice, but they can be completely removed for short periods of time — at important board meetings, for example.
Red-Carpet Tooth Whitening
More recently, Rancic had tooth whitening treatments. Depending on the degree of lightening needed, these can range from custom-fitted bleaching trays that you wear at home under the supervision of a dentist, to in-office whitening treatments that work in far less time. Both can be effective in lightening your teeth by six shades or more.
But if you need the ultimate in whitening, veneers may be the best option. These are fingernail-thin coatings, made of pearly-white porcelain or composite material, that are placed directly on the tooth surfaces. Realistic and durable, they can provide a "Hollywood white" smile that's ready for the red carpet.
Did Bill's cosmetic dental work really improve his life? We can't say for sure — but as his wife Giuliana recently told Dear Doctor, "First impressions are very important, and having a beautiful smile will help anyone make a great impact on others." So perhaps it worked on her!
If you would like more information on how cosmetic dental treatments can improve your smile, please contact us or schedule an appointment for a consultation. You can learn more about this topic in the Dear Doctor magazine articles "The Magic of Orthodontics" and "Important Teeth Whitening Questions Answered."