Leavitt & Scher Dental Group
5867 Mayfield Rd
Mayfield Heights, OH 44124
440-442-3262
My Blog
Posts for: October, 2017
By Leavitt Dental Group
October 27, 2017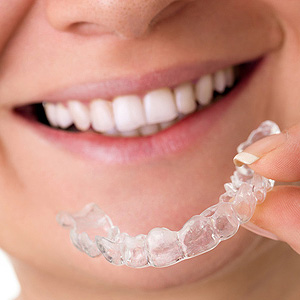 Wearing braces isn't just for teenagers — straightening teeth can be just as viable a need when you're an adult. For example, it may be necessary to first move teeth away from an empty tooth socket before you obtain a dental implant or other restoration.
But braces could have complications, especially if you have periodontal (gum) disease. These infections caused by plaque, a thin film of bacteria and food particles, inflame and weaken gum tissues and erode supporting bone. It can be treated and brought under control — but keeping it under control requires daily brushing and flossing, along with frequent office cleanings and checkups.
Braces can make this more difficult: it's harder to brush and floss effectively through the hardware of brackets and wires, which can give plaque a chance to build up. Patients susceptible to gum disease are more likely to have re-infections while wearing braces. The hardware can also cause enamel to come in prolonged contact with acid, which can dissolve its mineral content and open the door to tooth decay.
Clear aligners are an alternative to braces that can accomplish tooth movement while minimizing infection flare-ups for people with gum disease. Aligners are a series of customized clear plastic trays worn over the teeth, with each succeeding tray incrementally moving the teeth further than the preceding one. After wearing one tray for a specified time period, you then switch to the next tray. The teeth gradually move to the desired new position over the course of the aligner series.
This option is especially advantageous for gum disease patients because the trays can be removed temporarily for brushing and flossing. There are also other benefits: we can hide a missing tooth space with a temporary false tooth attached to the aligner; and, they're nearly invisible so it won't be obvious to others you're undergoing orthodontic treatment.
Not all orthodontic situations benefit from this alternative, while some cases may call for a combination approach between aligners and braces. But in the right setting, clear aligners are a good choice for not only obtaining better teeth position, but also helping you avoid a new encounter with dental disease.
If you would like more information on orthodontic treatments for adult teeth, please contact us or schedule an appointment for a consultation.
By Leavitt Dental Group
October 12, 2017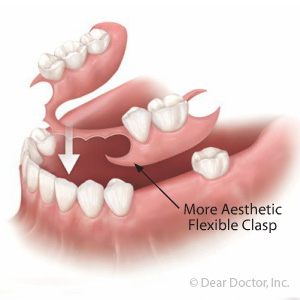 If you've lost some teeth you may eventually want to replace them with dental implants. Implants by far are the restoration of choice due to their life-likeness and durability. But those advantages don't come cheaply — implants can be expensive especially for multiple teeth.
If you're forced to wait financially for implants, you still have other intermediary options like a removable partial denture (RPD). The conventional RPD has a rigid acrylic base colored to resemble gum tissue supported by a metal frame with attached prosthetic (false) teeth at the missing teeth locations. They're held secure in the mouth through metal clasps that fit over the remaining teeth.
But these conventional RPDs can sometimes be uncomfortable to wear and don't always cover the bottom of the gum completely. If this is a concern, you might consider an alternative: flexible RPDs. The base of this RPD is made of a form of flexible nylon rather than acrylic plastic. They're much more lightweight but still fit securely in the mouth with thin plastic extensions rather than metal clasps. The base can also be more easily formed to cover areas where gum tissue may have receded.
While flexible RPDs hold up better to wear and tear than their conventional counterparts, they must still be maintained like any other appliance. They can accumulate plaque (bacterial biofilm) responsible for tooth decay and periodontal (gum) disease, so daily thorough cleaning is a must. And if there fit becomes loose they can be more difficult to reline or repair than other types of dentures.
They also share a common weakness with other dentures — they can't prevent and may even stimulate bone loss. As bone ages, old cells dissolve and new ones form to take their place. As we eat and chew our teeth transmit the forces generated through the teeth to the bone to stimulate it to grow. RPDs and other dentures can't transmit this stimulus, so the bone replaces much slower to the point that the bone volume can diminish.
That's why it's best to consider any RPD as a temporary solution until you can obtain an implant for a more permanent and bone-friendly option. In the meantime, though, an RPD can provide you with a great solution for both form and function for missing teeth.
If you would like more information on RPD choices, please contact us or schedule an appointment for a consultation. You can also learn more about this topic by reading the Dear Doctor magazine article "Flexible Partial Dentures: An Aesthetic Way to Replace Teeth Temporarily."